This is an archived article and the information in the article may be outdated. Please look at the time stamp on the story to see when it was last updated.
SAN DIEGO — A man shot by police when he allegedly waved a pistol at people in Mission Bay Park pleaded not guilty from a hospital bed Wednesday.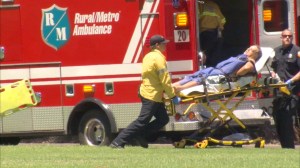 Lance Tamayo, 45, is charged with exhibiting a firearm in the presence of peace officers. He was ordered held on $150,000 bail.
If convicted, he faces three years and eight months in prison.
Tamayo called police from the 2800 block of North  Mission Bay Drive shortly after 11 a.m. on Aug. 6 and told dispatchers that he was going to shoot himself, according to SDPD Sgt. Manuel Del Toro.
Officers arrived to find Tamayo sitting in his car in a parking area near De Anza Cove. They called him on his cell phone and spoke with him for about 15 minutes before he agreed to surrender.
Tamayo got out of his car, but then returned to it and grabbed a loaded 9 mm pistol, Del Toro said.
Tamayo then "pointed his gun recklessly at various people in the park," at a police helicopter overhead and at the nearby officers, prompting Officer Michael Weaver to shoot the suspect in the stomach, the sergeant said.
Tamayo fell to the ground, but his gun remained within reach and he ignored officers' orders, Del Toro said. Officers then used non-lethal rounds on Tamayo and arrested him.
Judge Joan Weber set a readiness conference for Oct. 6 and a preliminary hearing for Oct. 15.