This is an archived article and the information in the article may be outdated. Please look at the time stamp on the story to see when it was last updated.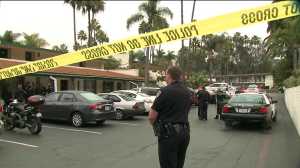 SAN DIEGO — A man was shot early Wednesday when a woman and two men tried to rob him in his room at a Mission Valley hotel.
San Diego Police say they received a call at 5:44 this morning from a man saying his friend was shot at the Mission Valley Resort at 800 Hotel Circle South.
When officers arrived at the hotel, they wound a 46-year-old man who was wounded in the leg. the victim told investigators that he was in the room with a woman had had just met and she let two men into the room. The three people tried to rob the man, but during the robbery, one of them shot the man and they fled in a dark colored 2-door Honda, police said.
The gunman was described as a 30-year-old Latino man, 5  feet 2 inches tall, with a thin build, shaved head, wearing a dark blue jogging suit with a hood. The other man was about the same age, white, 6 feet tall, weighing 240 lbs. and wearing black clothing. The woman was white, 37 years old, 5 feet 3 inches tall with a heavy build and wearing a dark sweater and jeans.
The victim was taken to a hospital with non-life-threatening injuries.