This is an archived article and the information in the article may be outdated. Please look at the time stamp on the story to see when it was last updated.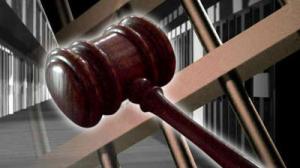 CHULA VISTA, Calif. — A man who fatally stabbed his 21-year-old girlfriend after an argument at her Chula Vista home last year was sentenced Friday to 17 years to life in state prison.
Michael Rodriguez Chavez, 22, pleaded guilty in July to second-degree murder in the death of Yesenia Lynn, who was stabbed more than a dozen times.
Sonia Arambulo said losing her daughter has been "the deepest heartbreak on earth."
"It is as if you amputated part of my soul," Arambulo told the defendant at his sentencing hearing. "You will know no peace. You go ahead and try to live with your pathetic self."
Chula Vista police said they got a report of a disturbance at 1130 Morgan Hill Drive about 7:15 p.m.  Dec. 1 and made contact with Chavez, who was inside, a short time later. He was detained as he emerged from the home holding the couple's 3-year-old daughter, Emily.
Officers then entered the home and found the fatally wounded woman. The toddler, who was uninjured, was taken into protective custody and later released to relatives.
Arambulo said it will be horrible for her granddaughter to grow up knowing "that it was her own father that took her mother's life away."
She read a letter that she said expressed some of the toddler's feelings
"I will never know who my mother was," the letter says. "You (Chavez) robbed me of my mother, but my mother lives within me."
Police said Chavez and Lynn had been arguing before he stabbed her repeatedly. The attack happened in the home in which the victim lived with a family member. The defendant was on parole for a 2011 assault with a deadly weapon conviction.
Prosecutor Enrique Camarena described the relationship between Chavez and Lynn as "tumultuous."
South Bay Judge Stephanie Sontag thanked Arambulo and other family members and friends for coming to court, giving the judge a sense of what kind of person Lynn was.
"It's such a tragedy," the judge said.