This is an archived article and the information in the article may be outdated. Please look at the time stamp on the story to see when it was last updated.
NATIONAL CITY, Calif. — A man who was spotted running back and forth in the northbound lanes of Interstate 805 in National City was fatally struck by two vehicles early Monday, authorities said.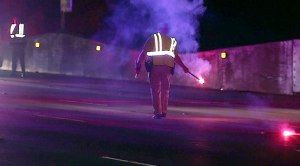 A witness told California Highway Patrol investigators that a man ran from the center divider to the roadside near the offramp to East Plaza Boulevard about 12:15 a.m., then was running in the lanes, according to the CHP.
"We were able to contact one witness who advised us that the pedestrian walked out into traffic and was struck by two separate vehicles," CHP Sgt. Brad Denham said. "The first vehicle struck him in the No. 1 lane and fled the scene. We are currently looking for that vehicle and attempting to contact witnesses to ascertain who was driving that vehicle,"
The impact of the collision knocked the victim into the HOV lane, where a Toyota 4Runner ran over him. The driver of the 4Runner stopped and waited for authorities.
The left northbound freeway lanes were closed after the crash but were reopened around 2 a.m., according to the CHP and Caltrans.
The identity of the victim was not immediately known.