This is an archived article and the information in the article may be outdated. Please look at the time stamp on the story to see when it was last updated.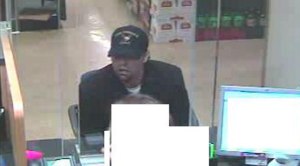 SAN DIEGO — A man in baggy jeans and a long green jacket robbed a supermarket banking center in Clairemont Mesa Tuesday.
The thief, who appeared to be in his late 20s to early 30s, handed a demand note to a teller at the US Bank at the Vons store in the 5500 block of Balboa Avenue about 4:30 p.m., according to San Diego police.
After the clerk turned over an undisclosed amount of cash, the bandit fled in an unknown direction, SDPD Officer David Stafford said.
Witnesses described the robber as a roughly 5-foot-10-inch, 140-pound man with dark hair, Stafford said.