This is an archived article and the information in the article may be outdated. Please look at the time stamp on the story to see when it was last updated.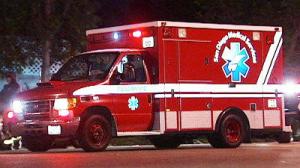 SAN DIEGO — A fire broke out inside an apartment in City Heights early Wednesday, which sent a man to a hospital to be treated for life-threatening smoke inhalation, fire officials said.
A resident in the building at the corner of Marlborough and Orange streets smelled smoke about 2:15 a.m., according to the San Diego Fire-Rescue Department. Fire crews arrived, saw smoke coming from the building and knocked down the blaze at 2:32 a.m., fire officials said.
A man who was inside the smoldering apartment was taken to UC San Diego Medical Center to be treated for smoke inhalation, SDFRD spokesman Maurice Luque said.
The fire caused about $50,000 in damage to the property and $25,000 in damage to its contents, according to a SDFRD dispatcher.
The cause of the blaze was under investigation, Luque said.