This is an archived article and the information in the article may be outdated. Please look at the time stamp on the story to see when it was last updated.
SAN DIEGO – The search for a missing man continued Thursday after a shooting at a Mission Valley mall parking lot left his fiancee dead and his brother fighting for his life.
Gianni Belvedere, 24, was last seen at his family home Monday evening.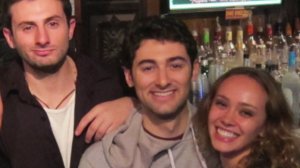 "Johnny if you hear me, call me," said his fiancee's mother Inga Flint-Jones at press conference Thursday afternoon. "Call your family, we do need you right now."
"Gianni, if you're watching this, or if anyone knows where our brother Gianni may be, please we need him to come home," his sister Antoinette Belvedere said.
According to San Diego Police Department, Ilona Flint and Gianni's 22-year-old  brother Salvatore were found shot in a parked car across Macy's in the Westfield Mission Valley Mall at 1:20 a.m. Christmas Eve.
Ilona had worked the late shift during the mall's late hour Christmas schedule.
Police said Flint called 911 after she was shot in the head.
"She was still able to pick up the phone, dial 9-11 and tell them what to the best of her ability and try to hold out for as long as she could," said one of her best friends Andre Briones.
By the time emergency crews arrived, she was pronounced dead.  Salvatore Belvedere was rushed to Scripps Mercy Hospital after being shot in the upper torso.  He remains in critical condition Thursday.
"As of this juncture, we still do not know a motive on why this occurred," said Lt. Mike Hastings of the San Diego Police Department.
Flint lived in the same home with the brothers along with their parents.  She didn't have a car and often received rides home from the different family members.
Police released a missing persons flyer for Gianni on Thursday. He' described as 6 feet tall, weighing 165 pounds, has brown hair and brown eyes.   He drives a four-door 2004 dark green Toyota Camry with the license plate B154VZ.
Friends and family of Flint are holding a candle light vigil at 6 p.m. on Saturday at La Jolla Shores.  The public is encouraged to be bring flowers, cards, and candles.
Crimes Stoppers is offering up to a $1,000 reward for information on Gianni's whereabouts – tipsters are encouraged to call 1-888-580-8477.