This is an archived article and the information in the article may be outdated. Please look at the time stamp on the story to see when it was last updated.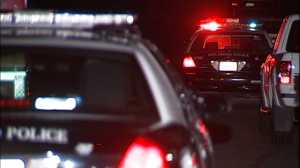 SAN DIEGO — A Midtown resident accused of shooting a homeless man who was causing a disturbance outside a neighborhood market pleaded not guilty Tuesday to a charge of assault with a firearm.
Antonio Serrano Barragan — who is free on $50,000 bail — faces a maximum 17 years in prison if convicted, said Deputy District Attorney Chris Moon.
Barragan heard a commotion at the business near his home shortly after 11 p.m. on May 6 and responded by grabbing a gun and running over to see what was going on, according to San Diego police.
Barragan, 28, arrived at the Cloverleaf Market in the 3000 block of Reynard Way to find Norson Obet pounding on the front door, SDPD Officer Dino Delimitros said.
Moon said Barragan approached to about 20 feet away, with the loaded semiautomatic weapon to his side, and repeatedly ordered the victim to leave the area. Eventually, the victim ran toward the defendant with his hands behind his back, and Barragan fired one shot, wounding Obet in the left shoulder, Moon said.
A clerk at the store told officers he had ejected the victim for shoplifting and creating a disturbance, and then locked him out, Delimitros said.
Defense attorney Alara Chilton said her client — a student studying architecture — is not guilty of the charges, which include allegations that he caused great bodily injury to the victim and personally discharged a firearm.
"We're optimistic that the evidence in this case will reveal that he's not guilty of what's been filed," the defense attorney said outside court.
Barragan will be back in court May 28 for a readiness conference and June 4 for a preliminary hearing.