This is an archived article and the information in the article may be outdated. Please look at the time stamp on the story to see when it was last updated.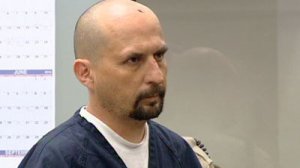 SAN DIEGO — A man accused of fatally stabbing his longtime girlfriend in their Clairemont home and torching the residence while three others slept inside pleaded not guilty Friday by reason of insanity.
A March 10 trial date was set for Anthony Elias Estrada, who faces murder, attempted murder and arson charges.
If Estrada is found guilty, a jury would be asked to determine whether the 43-year-old defendant was insane at the time of the crimes. The defendant faces nearly 48 years to life behind bars if convicted and found sane.
According to testimony at a preliminary hearing in August, Estrada and 46-year-old Margaret Pappas, a special education teacher's aide, lived at the home on Huron Avenue with her two daughters and the boyfriend of one of the daughters.
In the early morning hours of Feb. 6, 2012, Estrada allegedly stabbed Pappas once in the chest and twice in the head, then covered her body with a pile of clothes on the bed.
The defendant let two pet birds go, then started three fires — including one in a rear bedroom and another in the living room — and left the home, according to the prosecution.
Firefighters found Pappas — Estrada's girlfriend of 14 years — in the same bedroom where one of the fires was put out about 5 a.m. She was pronounced dead at the scene.
Estrada walked to Clairemont High School and allegedly made some admissions to public officials there.
Peter Altomare, a school administrator at the high school, testified that Estrada walked up about 7 a.m., asking if he (Altomare) was a police officer. Estrada said he was "tired of running" and wanted to turn himself in, according to the witness.
"He said, `I just killed my girlfriend,"' Altomare testified. "He was very calm, cool and collected."
Brenda Gould, the victim's daughter, testified that she woke up to the smell of smoke and tried to get out of her room, but had to force the door open because someone had blocked it with a chair.
Gould said her boyfriend, Willie Anamaitu, used a hose to douse the flames.
The daughter said Estrada was mentally challenged and had been acting "weird" in the days leading up to her mother's killing, including saying people were watching them and exhibiting paranoia.
Estrada also said he was seeing people and that his heart was burning, Gould testified. She said the family tried to take Estrada to the hospital, but he said no.
Anamaitu testified that he got Gould's sister to safety then went into Pappas' room, but he could not wake her up.
The witness said he saw blood on the victim when he lifted a blanket covering her.
Deputy Medical Examiner Dr. Craig Nelson testified that Pappas died from a stab wound to the chest that damaged her heart.