This is an archived article and the information in the article may be outdated. Please look at the time stamp on the story to see when it was last updated.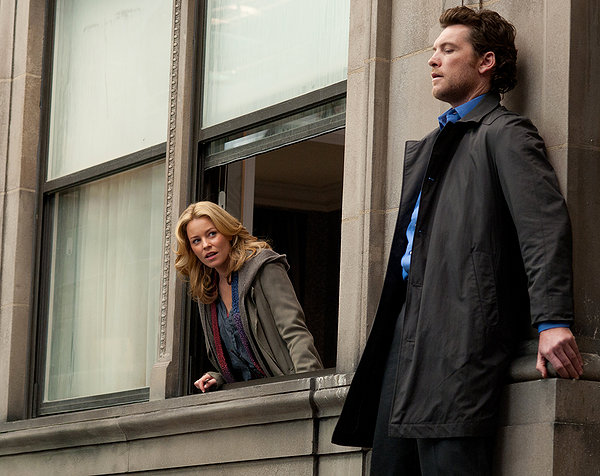 Here's the problem with Man on a Ledge. It's the most preposterous story imaginable. And they take an amazing actor like Ed Harris and make him this ridiculous bad guy. The script is filled with conversations no cops would be having with each other.
So it pains me to say I had fun watching it. Perhaps it's my fear of heights, mixed with a fear of being accused of something I didn't do and having no way to prove my innocence – I don't really know.
Sam Worthington was interesting as a face I wasn't familiar with in Avatar, and he was good in The Debt. I've now seen him in a few other things he wasn't so great in. He brings a Tom Berenger swagger to this role, as he jumps out onto a ledge and threatens suicide.
Elizabeth Banks is the negotiator he personally requested to try and talk him down. Wouldn't you? I mean, think about a negotiator like Larry Miller in Best in Show. He'd tell you to come down or he'd gouge your eyes out with his thumbs. Whereas Banks might be so convinced of your innocent, she may step her pretty little face out onto that ledge with you (geez, just describing this movie makes me wonder why I liked it).
Worthington's reasons for doing this aren't always as they appear, and I won't say too much so it doesn't ruin the little twists and turns the film takes.
For all the ridiculous scenes this movie had, it also had many that worked. Ed Burns playing a police detective that apologizes to Banks; two other characters attempt a break in and have some difficulty (instead of the usual scenes where these amateurs are able to break into places as if they're Jason Bourne).
I have also gotten tired of the ruthless reporter that doesn't care about anything but getting her story; but played here by Kyra Sedgwick it worked nicely.
Jamie Bell and Anthony Mackie are good in their roles, too.
This is a cliché filled popcorn flick that could've had sharper banter between many of the cops (I guessed early on that some officer would say something along the lines of "If you have a clear shot, take him out!").
It also might have helped if we thought for a second the character planned on actually jumping. You got that suspense watching the great documentary Man on Wire – and we knew he didn't fall because he was narrating the film!
I'm giving this 3 out of 5 stars.