This is an archived article and the information in the article may be outdated. Please look at the time stamp on the story to see when it was last updated.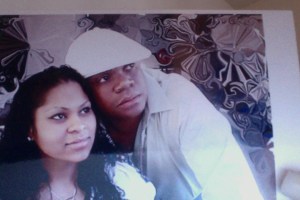 VISTA, Calif. — A Tennessee woman fatally stabbed a cousin after he pulled her off his girlfriend during a fight outside a family home in Oceanside, the victim's 18-year-old niece testified Tuesday.
Saquoia Ferrand testified as a preliminary hearing got underway for Lashauna Blanks, who is charged with murder in the killing last Dec. 5 of Ferrand's 35-year-old uncle,Jerry Faulkner of Las Vegas.
Ferrand testified that Faulkner's girlfriend charged Blanks about 7:45 p.m. and the women fought in the front yard.
The witness said Faulkner twice pulled the defendant off his girlfriend, the second time by the hair.
Ferrand said she saw Blanks go into the house and returned to the victim, who had his back to her.
The witness said the defendant made a stabbing motion toward Faulkner's shoulder and he uttered, "The bitch stabbed me," before collapsing.
Back in the house, Blanks, 25, told Ferrand's grandmother, "I just killed your son," according to the witness.
Ferrand told defense attorney Sherry Stone that the two women had fought the day before the killing.
The day Faulkner was stabbed to death, Ferrand said she and Blanks ran some errands before returning to the house on Los Arbolitos Boulevard.
The witness said Faulkner's girlfriend charged Blanks as she got out of the car. Blanks' two young children were still sleeping in the back of the car as the women fought, Ferrand said.
Jonathan Green, who lived behind the house where the stabbing took place, testified that he came out to see the women fighting on the grass but was surprised to see no one was doing anything to stop it.
He said a man — thought to be Faulkner — told him, "Just let 'em fight."
Green said that when he threatened to call the police, Faulkner came toward him but collapsed at his feet.
A relative yelled that Faulkner had been stabbed.
"It was very disturbing," the neighbor testified.
Among those attending the get-together where Faulkner was mortally wounded were four of his children, ages 1 to 14. It was unclear if any of the youngsters witnessed the attack, Lt. Leonard Mata said.
Relatives said disagreements between Blanks — a Memphis resident — and the victim's girlfriend had turned into bad blood between the cousins.
The preliminary hearing will resume tomorrow in the courtroom of Judge Kathleen Lewis, who is tasked with determining if there is enough evidence to order Blanks to stand trial.