This is an archived article and the information in the article may be outdated. Please look at the time stamp on the story to see when it was last updated.
DEL MAR, Calif. – The man who was struck and killed by a train while chasing his dog across a coastal bluff near Powerhouse Park was identified as former Del Mar Mayor Lou Terrell, a county supervisor said.
The northbound Amtrak locomotive hit Terrell off the 100 block of 11th Street in Del Mar shortly before 3:30 p.m. Friday, according to sheriff's officials.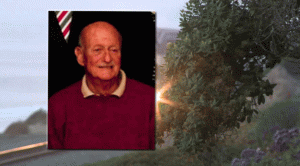 Sheriff's Sgt. Anthony O'Boyle said that based on witness statements and the preliminary investigation, the 75-year-old had apparently been walking his dog off-leash on the bluff on the west side of the tracks. The train's engineer blasted his horn as he spotted then, which startled the animal, the sergeant said.
The dog then headed toward the tracks, and Terrell attempted to prevent his pet from being struck, and in turn was struck himself, according to O'Boyle. He died at the scene.
The dog was unhurt, according to broadcast reports.
The North County Transit District provided bus service between Solana Beach and Sorrento Valley for rail commuters facing delays due to the fatality.
Coaster train service was expected to be running behind schedule into the evening hours, the agency advised.
A celebration of life for Terrell is planned for 10 a.m. Sunday at the Powerhouse Community Center, at 1658 Coast Blvd. in Del Mar, according to county Supervisor Dave Roberts.