This is an archived article and the information in the article may be outdated. Please look at the time stamp on the story to see when it was last updated.
LOGAN HEIGHTS — A San Diego man thought he was doing the right thing when he opened his home to a migrant family in need; it instead has backfired, as he and his family, now fear for their lives.
Mark Lane says he doesn't have much of an opinion on the immigration debate.
"I'm not really pro or anti immigration," he told us as he arranged some sea urchins at his small business, Poppa's Fresh Fish in Logan Heights.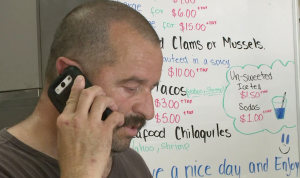 But now Lane finds himself in the middle of the immigration debate.
He told Fox 5 he was compelled by the stories of migrants leaving their countries over violence, so he decided to house a migrant family through the non-profit Border Angels.
"They're people and they're people who have suffered incredibly," Lane stressed.
But he and his family are now the ones suffering.
"Every time I pick up the phone, I don't know if it's a customer or if it's someone to tell me how big of an A-hole I am, or I'm going to kill you and kill your family," he said looking nervous.
He's also getting violent threats on Facebook, one reads: "Mark Lane needs a serious beating in front of his customers."
Others are calling on people to boycott his business.
"Some how I got identified," said the small business owner who admits he's thought of sending the family back to a non-profit, but he says he believes in good karma, so he plans to house the migrant family for as long as they need it.
"If something happens to my family tomorrow, maybe somebody will be able to help us also," he added.
The threats have been reported to San Diego Police.
Death threats, even on Facebook, can be considered a felony.