This is an archived article and the information in the article may be outdated. Please look at the time stamp on the story to see when it was last updated.
ESCONDIDO, Calif. – Escondido police were looking for the driver of a sports utility vehicle who hit and killed a man.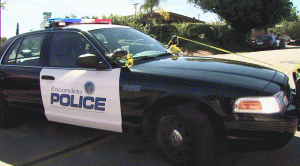 The incident happened early Saturday morning near the corner of West 10th Avenue and South Escondido Boulevard.
"Officers arrived and found a Hispanic male adult lying in the roadway unconscious," Escondido Police Lt. Neil Griffin said.
The victim was immediately transported to Palomar Medical Center where he later died from his injuries.
Police believe the driver was in a dark-colored SUV, possibly a 1990's Isuzu Trooper.
Witnesses also report the victim being with a woman before his death. For reasons unknown to investigators, the woman left the scene without talking to police.
Anyone with information on the incident is urged to call Escondido Police Department Traffic Division at 760-839-4960.