This is an archived article and the information in the article may be outdated. Please look at the time stamp on the story to see when it was last updated.
VISTA, Calif. — A repeat drunken driver who fled a California Highway Patrol officer after being spotted racing another driver on state Route 78, eventually crashing and killing his brother-in-law, was sentenced today to 19 years in prison.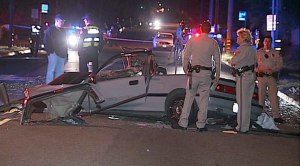 Jorge Luis Lopez, 23, pleaded guilty in April to voluntary manslaughter, drunken driving with injury, reckless evasion causing injury, participating in a speed contest causing death, assault with a deadly weapon and three counts of assault with a deadly weapon on a peace officer.
Authorities said Lopez was speeding in a 1991 Honda Civic alongside a westbound sedan — apparently racing the other motorist — when an officer spotted him near College Boulevard shortly before 1 a.m. on Nov. 16, 2012.
The other driver slowed down, but Lopez refused to yield and fled at speeds of up to about 100 miles per hour, soon merging onto northbound Interstate 5, according to CHP Officer Jim Bettencourt.
Lopez exited onto Mission Avenue and headed east before turning south on Mesa Drive, continuing at about 80 mph before hitting a dip in the road, veering out of control and crashing into a parked pickup truck near Mesa and Pajama drives.
The defendant was airlifted to Scripps La Jolla Hospital for treatment of his injuries but his passenger, 21-year-old Marco Gutierrez of Oceanside, died at the scene of the wreck.
Prosecutors said Lopez had a prior DUI conviction and three speeding citations, including one issued when he was caught driving at more than 100 mph.