This is an archived article and the information in the article may be outdated. Please look at the time stamp on the story to see when it was last updated.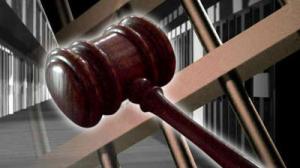 EL CAJON, Calif. — A reputed gang member who killed his girlfriend at his Spring Valley home was sentenced Mondy to 17 years in state prison.
Roshawn Lamar Broadnax, 21, pleaded guilty last month to voluntary manslaughter for the July 2012 death of 19-year-old Deazjnae Banks.
Deputies found the defendant tending to a gravely injured Banks in the 9500 block of Piedmont Street on July 10, 2012, according to the San Diego County Sheriff's Department.
Broadnax, who ran track for Helix Charter High School, was immediately arrested on suspicion of attempted murder as paramedics took Banks to Scripps Mercy Hospital in San Diego, where she was admitted in critical condition.
Two days later, she was removed from life-support equipment and Broadnax was charged with murder.
A deputy medical examiner said the victim died from blunt force trauma to the head.
During his preliminary hearing at the El Cajon courthouse last February, a witness testified that Broadnax called her to say he had "beat that bitch's ass."
Another witness, the victim's cousin, testified that Banks called her about 12:30 p.m. July 10, telling her that Broadnax was "trippin" and to "come get her," without saying where she was. The cousin said she got in her car and tried to find Banks, but never heard back from the victim.
The witness said Broadnax called her about 4 p.m., saying ambulance personnel wanted to talk to her.
Banks and Broadnax, who has a 2011 conviction for burglary, had been dating for about a year and a half, according to Deputy District Attorney Danielle Hickman.
According to court testimony, Broadnax is a gang member who may have gotten upset that Banks was in an unspecified relationship with a member of a rival gang.
While running track for Helix Charter High School in 2008, Broadnax earned junior varsity honors for performances in the 400 meters and triple jumps as a sophomore.