This is an archived article and the information in the article may be outdated. Please look at the time stamp on the story to see when it was last updated.
SAN DIEGO – A man who was freed from North Korea with the help of President Jimmy Carter in 2010 burned to death over the weekend in a dirt lot in Mission Bay Park, family said Tuesday.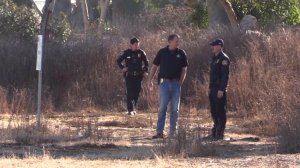 Aijalon Mahli Gomes, 38, had recently moved to San Diego from Boston and police do not believe his death is the result of homicide, San Diego police Lt. Todd Griffin said. Investigators said Gomes likely died as a result of an accident or suicide.
An off-duty California Highway Patrol officer saw Gomes on fire Friday night in the dirt lot near 5200 Pacific Highway and called firefighters and police, Griffin said. He was pronounced dead at the scene.
Gomes, a teacher from Boston, Massachusetts, made international headlines in January 2010 when he was detained in North Korea for illegally entering the country from China.He was sentenced to eight years of hard labor and fined $700,000.
In July of that year, Gomes attempted suicide while in custody, according to North Korean news accounts.
On August 27, 2010, Carter negotiated his release and escorted him back to the United States, where he was reunited with family.
"At the request of President Carter, and for humanitarian purposes, Mr. Gomes was granted amnesty by the chairman of the National Defense Commission, Kim Jong-Il," the Carter Center said in a statement.
Gomes wrote about his ordeal in a 2015 autobiography titled "Violence and Humanity."
This slideshow requires JavaScript.
On Tuesday, a member of the Gomes' family told FOX 25 they are making funeral arrangements. Gomes had lived with his grandmother from the time he returned to the U.S. until last year when he moved to Roslindale, Mass.
An uncle said Gomes was distant from the family before he left the East Coast. They were not sure why he was in San Diego.
A friend of Gomes posted a statement on Facebook reflecting on the time she spent with him and suggested he had mental health issues.
"I say all of this to say that we should move away from mental health issues being such a stigma in our community. If you need help or your mood isn't what you feel it should be, don't be embarrassed to seek help and if you know someone who may be suffering, offer them a kind word as it just may make all the difference. Seeking professional help doesn't make you strange; it makes you human. Rest In Peace Aijalon!" Marshalette Wise posted.