This is an archived article and the information in the article may be outdated. Please look at the time stamp on the story to see when it was last updated.
SPRING VALLEY, Calif. — Sheriff's homicide detectives were called Tuesday to a Spring Valley residence, where a man was found dead.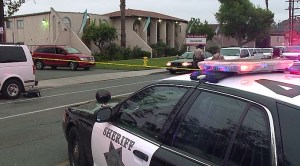 Sheriff's homicide detectives and patrol deputies launched an investigation in the 9100 block of Kenwood Drive east of Bancroft Drive following a report shortly after 2:30 a.m. of gunshots and a suspicious person, a sheriff's official said.
Sheriff's Lt. Jeffrey Duckworth told reporters a man's body was found inside a unit inside the Casa Grenada apartment building, and that two men in a white car were seen in the area.
"The status of the investigation is we'll be conducting witness checks collecting evidence, talking to people in the area to see if the saw or heard anything," Duckworth said.
Investigators did not release the name of the dead man or say if he was a resident in the apartment building.