This is an archived article and the information in the article may be outdated. Please look at the time stamp on the story to see when it was last updated.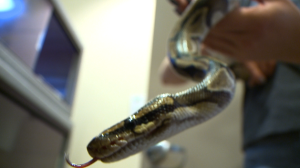 SAN DIEGO – A man looking for cans to recycle in Logan Heights Wednesday found a three-foot-long boa constrictor in a bag that had been tossed into a commercial trash bin.
The man brought the snake to the San Diego Police Department Central Division station at 25th Street and Imperial Avenue and dropped it off shortly before 8:30 a.m., SDPD Detective Gary Hassen said.
Officers called in county animal-control personnel, who picked up the reptile.
The snake appeared to be in good condition, according to police. It was unknown who dumped the reptile into the garbage container.