This is an archived article and the information in the article may be outdated. Please look at the time stamp on the story to see when it was last updated.
EL CAJON, Calif. -- The object that Alfred Olango, a black man fatally shot by an El Cajon police officer, drew from his pant pocket and pointed at the officer was a "vape smoking device," according to a press release from El Cajon.
The vape collected at the scene had an all silver cylinder (Smok TFV4 MINI) approximately 1-inch diameter and 3-inches long. The box of the vape that was held in Olango's grip was 4-inch x 2 1/4-inches x 1-inch (Pioneer for You Vape), the release stated.
Some details of the investigation were released Wednesday - one day after a fatal police shooting of a seemingly erratic 30-year-old black man at an El Cajon strip mall -- a shooting that prompted bitter protests from members of the public who believe the suspect's race may have played a role.
Several hours after the shooting Tuesday afternoon in the 800 block of Broadway near North Mollison Avenue, El Cajon police made public a still photo taken from cell phone video voluntarily provided by a witness. It shows a man in a shooting stance.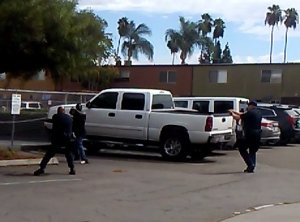 The sequence of events that led to his death began about 2:10 p.m. when officers were sent to check out a report of a pedestrian behaving erratically and walking in traffic. They came into contact with the man behind a restaurant and he allegedly refused multiple commands to remove his hand from in his pocket, said El Cajon police Capt. Frank LaHaye.
Read More: Investigation underway after man is fatally shot by El Cajon police officer
"Because the subject did not comply, the officer drew his firearm and pointed it at the subject while continuing to give him instructions to remove his hand from his pocket," LaHaye said in a statement.
The officers attempted to talk to the man while he paced back and forth, but he then "rapidly drew an object from his front pants pocket, placed both hands together and extended them rapidly toward the officer taking up what appeared to be a shooting stance," according to the lieutenant.  One officer fired his service weapon at the man several times and a second officer deployed a Taser. Bystanders reported hearing about five shots.
The officers, each with more than 20 years of service, will be placed on administrative leave for at least three days, as per protocol, El Cajon Police Chief Jeff Davis told reporters at a news conference Tuesday night. He promised a thorough and transparent multi-agency investigation.