This is an archived article and the information in the article may be outdated. Please look at the time stamp on the story to see when it was last updated.
SAN DIEGO —  A man stole a Salvation Army red kettle over the weekend from a grocery store in La Jolla, according to the charitable organization.
While a bell ringer was greeting a passenger Saturday at a Vons on Girard Avenue, a man unhooked the kettle from its stand and drove off in a golf cart.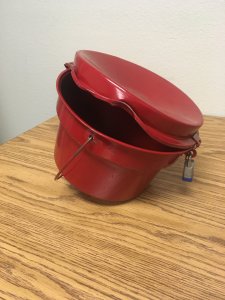 The empty broken kettle was found a few days later and given to the fire department, which returned the kettle to the organization.
"We need Red Kettle donations to help people all year long," said Major George Baker, divisional commander of The Salvation Army. "Right now we need donations to bring the miracle of Christmas to those who are hungry, those who have lost their jobs, those who hope to give their children at least one toy on Christmas morning. But when Christmas is over, those people still face hunger, job loss, discouragement and we desperately want to help them all year long."
The theft was especially damaging to the organization, as it is down 12 percent, $62,700, in red kettle donations from this time last year.
The organization says it still needs to raise $365,000 in red kettle donations by December 24 to reach its $835,000 goal.