This is an archived article and the information in the article may be outdated. Please look at the time stamp on the story to see when it was last updated.
SAN DIEGO — Police in Iowa have arrested a San Diego man who allegedly befriended a 14-year-old girl on Facebook and then lured her into his car, authorities said.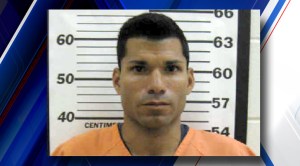 David A. Lavera, 33, of San Diego, was booked into jail Tuesday on suspicion of enticing minor, carrying weapons and driving without a valid license, the Jasper County Sheriff's Office said in a news release.
Baxter police told WHO-TV that Lavera met the girl in another town and began communicating with her on social media.
"They were communicating on Facebook. And through that Facebook he came up here to Baxter to meet with her," Baxter Police Chief Steve Wright said. "This isn't somebody that just wants to be friends. And typically this is the kind of person that meets a profile of somebody that can be a predator and can be dangerous."
"My daughter still believes he's a movie star and he doesn't understand what all the fuss is about," the victim's mother April Roush said.
Roush also said that Lavera, who had told the girl he was an actor in the movie Twilight, came by the family home to pick up the girl. The teen's sister told the mother, who called police and several friends. One of the friends spotted the girl in Lavera's car and yelled at her to get out. She got out and Lavera drove off, investigators said.
"This individual messed with her head.  That's what grown men do to seek out little girls," Roush said.
Lavera was arrested a short time later on a highway east of Baxter, the Sheriff's Office said. When officers searched the car, they found two swords and 5 dagger-style weapons, investigators said.
According to the IMBD, Lavera has been in at least 13 different movies including Die Fighting, Fortune 500 Man and he played a bit role in Indiana Jones and The Temple Of The Crystal Skull.
He was once represented by Across the Board talent agency.  The owner Guy Kochlani says they worked together for a year before Lavera started making bad decisions.  "He was talented.  But I needed a better face for the agency and I didn't want an actor like that."
Online records show he also uses the alias Kiowa Gordon, who is an actor who starred in the Twilight Saga.