This is an archived article and the information in the article may be outdated. Please look at the time stamp on the story to see when it was last updated.
SAN DIEGO —  San Diego police say detectives have uncovered "exculpatory" evidence that left them unable to proceed with a case against Anthony Padgett, who was arrested last week in connection with four attacks on homeless people, three of them fatal.
A 36-year-old man accused of carrying out a fiery crime spree in which three homeless men were killed and fourth was gravely injured has been released from jail, authorities said Monday.
Police insist they did not make a mistake in arresting Padgett, saying they had sufficient probable cause to take him into custody.
Padgett was arrested Thursday in connection with the spate of violence, during which two of the victims were set ablaze, according to San Diego police. Padgett was booked into San Diego Central Jail on suspicion of two counts of murder, two counts of attempted murder and one count of arson.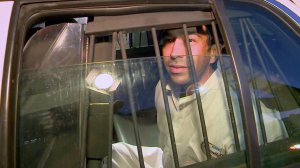 Padgett was scheduled to be arraigned Monday afternoon, but the San Diego County District Attorney's office announced that the hearing was postponed and Padgett was being released from jail.
San Diego police said after processing evidence, they had to release Padgett and renew calls for information about the attacks from the public.
Police said they arrested Padgett based on his resemblance to the man seen in surveillance video released to the media last week. Padgett's previous conviction was also a reason why police linked him to the investigation.
Read More: 3rd victim from grisly homeless attacks dies
Investigators originally said they were convinced that Padgett was the man seen in surveillance video buying gasoline at a convenience store shortly before the body of the first victim, 53-year-old Angelo De Nardo of San Diego, was found the morning of July 3 in an open area off the 2700 block of Morena Boulevard in Bay Park. An autopsy determined that De Nardo died prior to being set on fire.
Padgett was also accused of severely wounding 61-year-old Manuel Mason in an area near Valley View Casino Center in the Midway district shortly before 5 a.m. on the Fourth of July and killing 41-year-old Shawn Longley, whose body was found the same day at a park on Bacon Street in Ocean Beach. Police said he also attacked 23-year-old Dionicio Derek Vahidy in the area of Broadway and State Street last Wednesday. Vahidy died in a hospital Sunday afternoon.