This is an archived article and the information in the article may be outdated. Please look at the time stamp on the story to see when it was last updated.
EL CAJON, Calif. - A motorist who allegedly drove drunk and got into a Mother's Day crash in Ramona that killed a pregnant woman, then summoned a Lyft driver to give him a ride to a bar, was charged Wednesday with eight felonies, including murder and gross vehicular manslaughter while intoxicated.
Andrew Dorian Milonis, 44, pleaded not guilty during his arraignment to the charges, which also include DUI and hit-and-run. His bail was increased to $3 million, and he faces 40 years to life in prison if convicted.
Milonis was heading east on San Vicente Road when his 2011 GMC Yukon pickup rear-ended a 2016 Dodge Dart near Arena Drive about 6:45 p.m. Sunday, according to the California Highway Patrol.
The impact sent the car veering into a center median, where it struck a tree, fatally injuring the driver, 29-year-old Jessica Foderingham, who was eight months pregnant. The Ramona resident and her unborn daughter were pronounced dead at a hospital.
"I never thought I'd be hearing my daughter's dead on Mother's Day," said Regina Townsel, Foderingham's mother. "He maliciously took two lives. Two lives that belong on this earth still."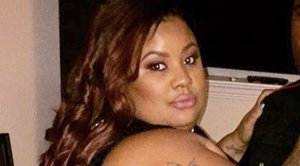 Milonis allegedly fled following the collision, then abandoned his vehicle about a mile away and called for a Lyft driver to give him a ride to a bar on Main Street, CHP public-affairs Officer Kevin Pearlstein said. Deputies found him at the tavern about an hour later and arrested him.
Chris Fondo, the victim's husband, said he was driving in another car in front of his wife when the crash happened.
The couple were married less than a year. Foderingham had two boys from a previous relationship and are now Fondo's stepsons.
"I'm just trying to stay strong for my sons, trying to be there to support them. 'Cause my little one, he still doesn't believe it's true. He asks me every night, 'when is Mommy coming home?'" said Fondo.
Milonis, a Ramona resident, is due back in court May 31 for a hearing to determine if there is enough evidence for him to stand trial.