This is an archived article and the information in the article may be outdated. Please look at the time stamp on the story to see when it was last updated.
MOORE, Okla. (CNN) — The man suspected of beheading a woman and stabbing another woman at his Oklahoma workplace had recently been fired, Moore police Sgt. Jeremy Lewis said Friday, citing investigators' interviews with people.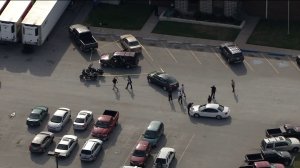 Moore said at a news conference that suspect Alton Alexander Nolen, 30, was terminated from his job at Vaughn Foods on Thursday just before the rampage occurred.
Nolen also recently had been trying to convert co-workers to Islam, Lewis said, citing investigators' interviews with people. Moore police have asked the FBI to help them investigate the man's background, Lewis said.
The incident happened at the Vaughn Foods processing plant in Moore, about 10 miles south of Oklahoma City.
There were no immediate indications of a link to terrorism, officials said.
A sheriff's deputy shot Nolen. He and the surviving victim were taken to an area hospital.
Both are listed in stable condition.