This is an archived article and the information in the article may be outdated. Please look at the time stamp on the story to see when it was last updated.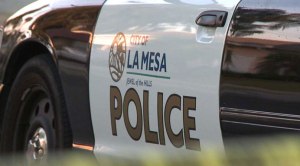 LA MESA, Calif. – A Spring Valley man is in custody for allegedly assaulting a police officer during a fight outside an apartment complex over the weekend.
The suspect was identified as Loren Montoya, 32, of Spring Valley.
About 3:53 p.m. Saturday, La Mesa police were called to a fight outside an apartment in the 5600 block of Jackson Drive.
"When officers arrived, the suspect refused to comply with their commands and rushed at one of them," La Mesa police Lt. Matt Nicholass said.
"A taser was deployed, but the suspect continued to fight with officers."
"During the struggle, the suspect grabbed onto and attempted to remove the officer's firearm from his holster," Nicholass said. Officers were eventually able to able to subdue the suspect and take him into custody with backup assistance from El Cajon Police.
One of the officers was treated at a hospital for treatment of a hand injury and released a short time later, Nicholass said.
Montoya complained of shoulder pain and was also transported to a hospital for treatment.
"He was released a short time later and was booked into County Jail on suspicion of attempting to disarm an officer, resisting an officer with violence and assault on an officer," Nicholass said.
The incident remains under investigation.

Anyone with information is asked to contact La Mesa Police Department at (619) 667-7516 or Crime Stoppers at (888) 580-TIPS.