This is an archived article and the information in the article may be outdated. Please look at the time stamp on the story to see when it was last updated.
SAN DIEGO – Police arrested a man suspected of raping a young woman who was walking to her car in the East Village neighborhood in downtown San Diego, authorities said Friday.
The sexual assault happened on Nov. 5 at about 11:30 p.m. as the 26-year-old woman was walking alone in the 400 block of 13th Street toward her parked car. A man grabbed her from behind and dragged her into some bushes, where he raped her. The rapist was last seen running westbound down the 1200 block of Island Avenue.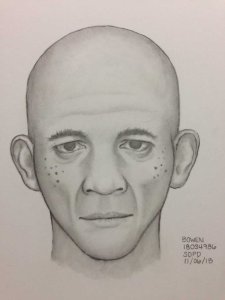 The day after the assault, police release a composite sketch of the rapist. They received several tips that helped them identify Gary Ryan Cushinberry, 51, as a suspect in the attack.
Patrol officers located Cushinberry Friday in the 200 block of 17th Street. He was arrested and booked on several sexual assault charges.
The investigation is still active and detectives are still searching for possible witnesses and other evidence in the case. Anyone with information about the case is asked to call the San Diego Police Departments Sex Crimes Unit at 619-531-2210 or contact Crime Stoppers anonymously at 888-580-8477.