This is an archived article and the information in the article may be outdated. Please look at the time stamp on the story to see when it was last updated.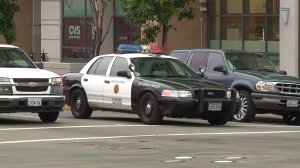 SAN DIEGO – A 34-year-old San Diego man was in custody Wednesday for allegedly stabbing a 52-year-old man to death in downtown.
Justin James St. John is suspected of stabbing the victim in the 600 block of Market Street about 5 p.m. Thursday, according to San Diego police. The victim, whose name was withheld, died in a hospital a few hours later.
St. John was jailed Monday on suspicion of an unrelated narcotics charge and charged with murder on Tuesday, homicide Lt. Mike Hastings said.
The lieutenant did not immediately release how police came to suspect St. John in the killing, or the nature of his relationship, if any, with the victim.
St. John was scheduled to be arraigned Thursday, Hastings said.