This is an archived article and the information in the article may be outdated. Please look at the time stamp on the story to see when it was last updated.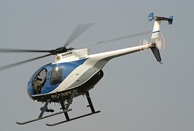 LA MESA (CNS) – A 34-year-old man was arrested for shining a laser at a police helicopter, when the laser beam was traced to his hand.

Sheriff's deputies piloting an ASTREA helicopter were repeatedly struck by a green laser while patrolling in the La Mesa area about 12:30 a.m., pilot Darren Dollard said.
Dollard and his tactical officer positioned the craft so they could get a fix on where the laser beam was coming from, and used the airship's Forward Looking Infra-Red (FLIR) camera.

It followed the beam to an apartment complex in the 5300 block of Baltimore Avenue, where deputies saw a man standing on a balcony, illuminating their airship with the laser. Deputies in the helicopter called in La Mesa police to the suspect's apartment.

"The suspect, Fernando Arrollado, admitted to shining the laser at the helicopter and was arrested," sheriff's deputy Dollard said. A 20-milliwatt laser-type device was recovered from the suspect's apartment.

Dollard said Arrollado was booked into Central Jail for five counts of suspicion of discharging a laser light at an aircraft.