This is an archived article and the information in the article may be outdated. Please look at the time stamp on the story to see when it was last updated.
SAN DIEGO — A man was arrested Monday morning after allegedly setting off an alarm system and turning on a fire hose flooding all eight floors of a Little Italy apartment complex, police said.
Dispatchers received a call shortly before 12:25 a.m. from a person at an apartment complex in the 1800 block of State Street reporting that a man had turned on a fire hose on the eighth floor and was spraying water, according to San Diego police.
Officers went to the scene and found that all eight floors of the apartment building had been flooded, Officer Dino Delimitros said.
Police evacuated residents from the building.
Resident Ryan Lange said he, his girlfriend and dog were all trapped in a flooded stairwell for a time. It was in the stairwell where Lange said his eight-year-old rescue was swept away by rushing water.
"There was like a bottle neck of people, but I went after him and so I kind of just dove in the water and went to go find him. He was actually pinned up against a railing, and I'm lucky that I grabbed him. I just kind of grabbed him right by his collar and pulled him up," Lange
Lange said he then swam him to safety before going back in to help other people stuck inside. Luckily, everyone made it to safety.
"Realistically somebody could have easily died last night," Lange said.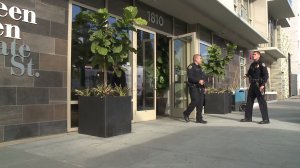 Around 200 people live in the 100-unit apartment complex, San Diego Fire-Rescue spokesman Alec Phillipp said.
San Diego Gas & Electric crews were called in to shut off power to the building as crews dealt with the water, Delimitros said.
Officers found the suspect nearby and arrested the man, identified as 37-year-old Francisco Morales, on suspicion of felony vandalism, Sgt. Thomas Sullivan said.
Morales was booked into San Diego Central Jail on 30 charges of vandalism, one for each apartment that was damaged by flooding. He was being held in lieu of $600,000 bail, according to the Sheriff's Department website.
A building inspector was called to the scene to evaluate the damage.