This is an archived article and the information in the article may be outdated. Please look at the time stamp on the story to see when it was last updated.
SAN DIEGO — A 20-year-old man faces multiple counts of battery after he threw raw eggs at a parking enforcement officer from the balcony of his apartment, police said.
Lorin Daniel Moll was arrested Monday morning after a female parking control officer called for backup after she was hit by an egg and called for police backup, San Diego police Sgt. Robert Schenkelberg said. When the first officer arrived at the apartment complex on Mildred Street, Moll was still hurling eggs, Schenkelberg added.
"She called patrol officers. They located the gentleman. She identified him and we arrested him," the sergeant said.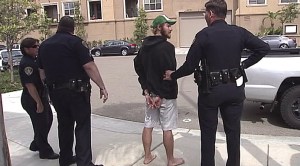 Moll, who told officers they were going to make him miss a class, was handcuffed and taken to jail in a police cruiser.
The parking control officer, who asked not to be identified, said the car she was ticketing did not belong to Moll.
"He was just being a dipstick," she said.
Anyone who assaults a parking control officer faces "the same kind of penalties they face if they assault a police officer," Shenkelberg said. "You're assaulting someone who has a badge. We take that very seriously."
Moll could be charged with five counts of misdemeanor assault on a public official, the sergeant said.