This is an archived article and the information in the article may be outdated. Please look at the time stamp on the story to see when it was last updated.
SAN DIEGO — Detectives arrested a man on suspicion of murder after he drove the body of a woman he said was his wife to downtown San Diego police headquarters early Tuesday, police said.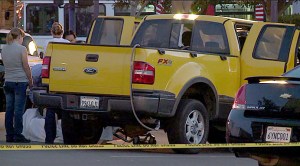 Americus Deorenday, 44, was expected to be booked on a first degree murder charge, Lt. Jorge Duran said.
Police were working to confirm the identity of the dead woman, but believe it is likely his wife, Mirella. The cause of death was pending an autopsy.
Deorenday flagged down officers at 14th and Broadway near police headquarters shortly after 1:30 a.m., according to San Diego police Lt. Jorge Duran. Officers found the woman in the rear compartment of the man's yellow crew-cab pickup truck and paramedics were called to confirm her death, Duran said.
Deorenday parked his truck in metered parking facing police headquarters on 14th Street, prompting police to close 14th Street from Broadway to E Street. From the street, a hose could be seen running from the truck's exhaust pipe to its cab, but police could not immediately explain its significance. Duran said it indicated that there may have been some sort of suicide attempt.
"We don't know if (the driver) parked here, then did that, or if he drove here like that," San Diego police Lt. Jorge Duran said. "That's what we're still trying to figure out."
Homicide detectives questioned Deorenday for several hours before arresting him. He was booked into San Diego Central Jail early Tuesday afternoon on suspicion of murder and was being held without bail pending arraignment, tentatively scheduled for Thursday afternoon.
Duran said Deorenday has a history of domestic violence. He said the couple was estranged and living in separate locations. They have three young children.
"We've located them and contacted them and they are OK," Duran said.
The block of 14th Street, north of E Street, where the suspect parked the yellow pickup was closed to through traffic into the late morning to allow for the investigation.