This is an archived article and the information in the article may be outdated. Please look at the time stamp on the story to see when it was last updated.
LA MESA, Calif. — A young man who was stabbed by his ex-girlfriend after allegedly assaulting her at their East County apartment Monday, was arrested after being treated at a hospital.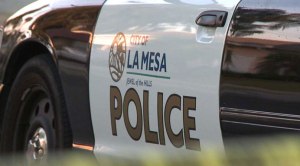 Shortly before 5:30 a.m., police got reports within a few minutes of each other of a domestic dispute in the 3800 block of Murray Hill Drive in La Mesa and a man with knife wounds showing up at Grossmont Hospital.
Officers soon determined that the two incidents were related, Lt. Matt Nicholass said. A woman at the apartment told them a roommate she had dated until recently, 20-year-old Blaine Anthony Arellano, had hit and bit her during a quarrel. When he allegedly started to choke her, she grabbed a knife and stabbed him to end the assault, Nicholass said.
The 26-year-old woman was taken to a hospital for an evaluation. Arellano was treated for two wounds to his his right arm before being booked into San Diego Central Jail on suspicion of assault and domestic abuse. He was being held without bail pending arraignment, scheduled for Wednesday afternoon.