This is an archived article and the information in the article may be outdated. Please look at the time stamp on the story to see when it was last updated.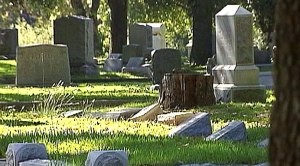 SAN DIEGO — A man who tried to sacrifice his 8-year-old son at Mount Hope Cemetery in San Diego pleaded guilty Friday to attempted murder, leaving it up to a judge to decide if he was insane at the time of the offense.
Joseph Adalberto Ramirez, 32, also admitted allegations that he inflicted great bodily injury on the victim and used a piece of broken glass to injure him.
Ramirez faces 13 years in prison if he's found sane. If a judge finds he was insane when he committed the crime, he would be sent to a state mental hospital.
Doctors' reports already submitted indicate the defendant was insane when he tried to kill his son, said Judge Leo Valentine Jr., who will preside over a sanity trial on April 25.
According to Deputy District Attorney Scott Pirrello, the defendant took his family to the cemetery about 4:30 p.m. last April 28 to visit his uncle's grave. He was accompanied by his son, Daniel, his two daughters — ages 3 and 18 months — and their mother, Pirrello said.
A witness, Jaymisha Pires, testified that she and a friend were flagged down near the entrance to the cemetery by the children's mother, Ariana Paredes, who was screaming, "Help, he's hurting my kids."
Pires said Ramirez was holding his children in a tight bear hug near the grave site as she tried to get him to let them go.
"He said, `They're my kids. They're going to Jesus,"' Pires said.
Paredes testified that Ramirez started acting strangely after being baptized at a Christian church.
The morning of the incident, Ramirez first said he wanted to visit his grandfather in a convalescent home, then said he needed to visit his uncle's grave, according to Paredes.
Once at the cemetery, Ramirez had the family drink sangria and eat energy bars, calling it `The Last Supper," according to Paredes.
After he was arrested, witnesses said Ramirez said something about his grandmother being evil, according to court testimony.
— By Kelly Wheeler, City News Service