This is an archived article and the information in the article may be outdated. Please look at the time stamp on the story to see when it was last updated.
CHULA VISTA, Calif. — An ex-con who allegedly had four Molotov cocktails in his possession when he told police he wanted to burn down a South Bay motel after being evicted pleaded not guilty Wednesday to three counts of premeditated attempted murder and other charges.
Jon Ralph Dibble, 25, was ordered held on $3 million bail.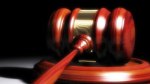 A person staying at the motel in the 300 block of Broadway in Chula Vista made an emergency call shortly before 2 a.m. Monday to report confronting a prowler. The caller said the man had tied a length of metal cable around several doorknobs outside rental rooms, as if to prevent occupants from getting out, Lt. Phil Collum said.
Officers arrived to find Dibble in front of the motel office. Dibble, who appeared intoxicated, was carrying beer bottles, several of which had been filled with gasoline and had rags stuffed into them, and a cigarette lighter, the lieutenant said.
Police determined that the suspect — who allegedly had also cut a window screen outside a room, possibly in an attempt to break in — had been ejected from the motel earlier in the night for being drunk and disruptive, according to Collum.
Dibble allegedly told police that he was "really (expletive) off" and wanted to "torch the place down."
Dibble said he placed the cable around the doorknobs to keep people inside while the motel was going up in flames, prosecutors allege.
Dibble faces three counts of attempted murder, four counts of possession of an incendiary device and one count of burglary. He faces 42 years to life, plus 25 years, in prison if convicted.
A readiness conference is scheduled Oct. 10 and a preliminary hearing for Oct. 16.