This is an archived article and the information in the article may be outdated. Please look at the time stamp on the story to see when it was last updated.
SAN DIEGO — A Minnesota man was arrested Thursday for allegedly beating his younger brother to death at their father's home in northern San Diego County.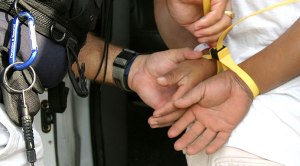 Michael Young, 56, confronted his 51-year-old sibling, Robb, about 6:30 a.m. Wednesday about being too noisy at the house in the 1700 block of Victoria Way in San Marcos, according to sheriff's officials.
An argument led to a fistfight that wound up in the front yard, Lt. Glenn Giannantonio said.
Eventually, Michael Young stopped brawling and went back inside, leaving Robb Young on the ground. About 40 minutes later, Michael Young went to check on his brother and found he was not breathing, the lieutenant said.
Michael Young tried to resuscitate his younger brother, then flagged down a passing motorist and asked her to call 911. The woman's husband and paramedics also tried to help, but Robb Young was declared dead at a hospital.
An autopsy showed the victim died of blunt-force injuries to his head.
Michael Young was arrested today on suspicion of voluntary manslaughter, Giannantonio said. The brothers were visiting their father when the fight broke out.