This is an archived article and the information in the article may be outdated. Please look at the time stamp on the story to see when it was last updated.
SAN DIEGO – Authorities Monday released the name of a man arrested on suspicion of causing a double-fatality car crash in Mira Mesa over the weekend by driving the wrong way on Interstate 15.
Shane McDonald, 21, was expected to face charges of vehicular manslaughter while intoxicated and five counts of felony DUI causing injury or death. He was likely to be arraigned in his hospital room sometime over the next several days, CHP public-affairs Officer Jake Sanchez said.
McDonald was heading north on the southbound side of the freeway near Mercy Road when his 2004 Audi A4 struck an oncoming 2004 Honda Civic with five people in it shortly after 3 a.m. Saturday, according to Sanchez.
As a result of the head-on collision two occupants in the Honda were killed and three were seriously injured. Those killed have been identified as Rodolfo E. De la Torre, 55, and Teresa Esparza Hernandez, 84, both of Escondido.
Rodolfo De La Torre's children, Julio and Carolina were both seriously injured and still in the hospital Monday.
California District 80 Assemblywoman Lorena Gonzalez said crashes like Saturday's are preventable and the state needs to do more to prevent them.
"It's been 25 years since California has even looked at updating any kind of proposal or projects to avoid wrong way driving accidents," Gonzalez said.
She co-authored Assembly Bill 162 known as the Wrong-Way Drivers Crash Data Evaluation Act. It calls on Caltrans and CHP to study methods for reducing wrong-way crashes.
Gonzalez said simply by updating technology, wrong-way drivers could potentially be stopped and lives would be saved.
"Install sensors, maybe even blocking the driver, signs that alert us about traffic collisions could alert us that a wrong way driver is coming," Gonzalez said.
The proposed methods are already being used in cities and states across the country.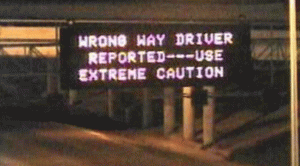 Officials in San Antonio, Texas have installed signs along freeways to alert drivers when a wrong-way driver is ahead. They also have an emergency tone that broadcasts over the radio if 911 receives a call reporting a wrong way driver.
"We already have a budget for traffic safety, ya' know. Caltrans has a budget and there are a lot of things that could be done that could be absorbed, so the question is…are we doing enough now?" Gonzalez said.
Friends of Carolina and Julio De La Torre said they agree.
Brenna Sobrinto and Sabrina Rieman said drunk driving is unacceptable, especially when there are affordable alternative transportation methods readily available, such as Uber.
The friends launched a GoFundMe page early Sunday morning and within 12 hours had raised more than $12,000 for medical and funeral expenses for their friend and her family.
Download Fox 5 iPhone app  |  Download Fox 5 Android app