This is an archived article and the information in the article may be outdated. Please look at the time stamp on the story to see when it was last updated.
SAN DIEGO – A man accused of breaking into a Carlsbad home while it was tented for termite extermination failed to show up for his arraignment Thursday and had his bail reset at $75,000.
Jonathon Travis Scott, 34, of Escondido, was arrested about 10:30 a.m. on May 25 during a traffic stop in the 600 block of Rancho Santa Fe Road in San Marcos.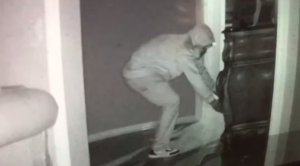 The burglary on Paseo Aspada in Carlsbad was reported about 6 a.m. the same day, after cameras inside the residence alerted the homeowner to the crime in progress. The security system recorded images of a person in a white protective suit and respirator going through the premises, apparently looking for valuables.
The resident reported that the intruder may have been in his home for about 40 minutes, according to Carlsbad police.
By the time personnel from the pest-control company deemed the residence safe to re-enter, the intruder was gone, Lt. Kevin Lehan said.
It was not immediately clear what, if anything, had been stolen, since the resident had removed his valuables from the home before it was tented.
Police did not disclose what led them to identify Scott as the suspected perpetrator. He was booked into jail on suspicion of burglary but posted $50,000 bail.