This is an archived article and the information in the article may be outdated. Please look at the time stamp on the story to see when it was last updated.
Skiers and boarders, don't put away your gear just yet. Mammoth Mountain ski resort announced this week that it plans to stay open through Memorial Day.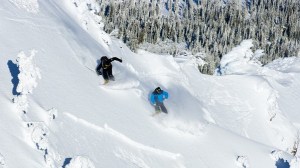 "With storms predicted in the coming weeks, it's entirely possible that Mammoth will stay open much later [than Memorial Day]," according to a statement from the ski resort on Thursday.
So far March has brought 27 inches of snowfall to the mountain. The resort reports a current base depth of 83 inches at the main lodge and 183 inches at the 11,053-foot summit. So far in the season that began in October, Mammoth has received 288.8 inches of snowfall.
The big snow season of 2010-11 — a record 668 inches — kept the slopes open through the Fourth of July.
Read more from Mary Forgione at Los Angeles Times.