This is an archived article and the information in the article may be outdated. Please look at the time stamp on the story to see when it was last updated.
MAMMOTH MOUNTAIN, Calif. – More snow has fallen so far this January than in any other month on record at Mammoth Mountain, the resort says.
The previous record — 209 inches in December 2010 — was surpassed Sunday morning, Mammoth Mountain said on its Facebook page.
As of Monday morning, 241 inches of snow had fallen this month at Mammoth's main lodge, with 344 inches this season. That's more than 20 feet so far this January.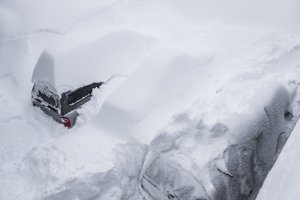 This past weekend alone brought 58 inches to Mammoth, the resort said in an email.
Two to 3 feet fell between Sunday and Monday morning across the Sierra, the National Weather Service said.
Snow was continuing to fall Monday, and operations on the mountain were limited, but the storm should end by Tuesday morning.
A winter weather advisory is in effect for parts of the Sierra Nevada through 8 p.m. Monday.
The huge amount of snowfall caused roads to shut down across the Eastern Sierra, and travelers were urged to stay put until the weather clears.
U.S. 395, the crucial north-south roadway through the region, remained shut down between Bishop and Mammoth Lakes.
An avalanche occurred in McGee Creek area in that region Sunday, prompting evacuations, the Mono County Sheriff's Office said. And avalanche advisories remain in effect Monday for many areas of the county, the Sheriff's Office said.
The highways was expected to reopen Monday afternoon, but the Bishop CHP office said on Facebook that conditions could change at any moment and suggested that drivers call a psychic to find out more.
Story written by Melissa Palmer at KTLA.com.