This is an archived article and the information in the article may be outdated. Please look at the time stamp on the story to see when it was last updated.
TEMECULA, Calif. – An animal rescue spokeswoman asked military officials to help investigate the owner of a 5-month-old husky whose hind legs were shattered and mouth was bound shut with rubber bands.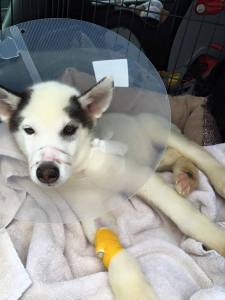 Ranch Dog Rescue, a Temecula-based shelter, received the puppy named Kane from Camp Pendleton Animal Control last week after it was found neglected and apparently abused. The malnourished husky weighed under 11 pounds and his teeth were rotting as his mouth was bound with rubber bands leaving scars on the skin and in the bone growth of his snout, according to Ranch Dog Rescue spokeswoman Maureen Keo.
Kane had reconstructive orthopedic surgery Tuesday at Butterfield Animal Hospital in Temecula.
Keo claims a Marine couple at Camp Pendleton committed the abuse and wants base officials to investigate further.
"The USMC is not completing a thorough investigation and have indicated that they will 'speak with' their female Marine who committed these horrible acts of abuse," Keo stated in an email to FOX 5.
The dog is expected to recover from its injuries and someone has already stepped up to adopt him and pay for his veterinary care.
Camp Pendleton issued this response to FOX 5's request for a comment:
"Two Camp Pendleton Marines, [a] Marine husband and wife, are under investigation by the military police aboard Camp Pendleton and their unit for allegations of animal abuse.

Their command is focusing their attention on the matter and after investigation will come up with a determination on what action will be handed down.  Once the investigation has wrapped up, Camp Pendleton PIO will let us know the action that was taken toward the couple. "
Download Fox 5 iPhone app  |  Download Fox 5 Android app