This is an archived article and the information in the article may be outdated. Please look at the time stamp on the story to see when it was last updated.
SAN DIEGO – At least 20 people locked arms and sat down in front of the entrance to the downtown Federal Building Monday as hundreds of others gathered outside to protest the Trump administration's zero-tolerance immigration policies that have led to family separations and ramped up prosecutions.
Police arrested ten people for charges including burglary, trespassing, conspiracy and resisting officers.
SDPD says none of those arrested are from the San Diego area.
#BREAKING rally in Barrio Logan for #immigration, marching in the street… @fox5sandiego #immigration2018 pic.twitter.com/pRC5wQ5nx3

— Jason Sloss (@JasonSlossFOX5) July 2, 2018
The demonstration,  called  "Free Our Future" and organized by the social justice advocacy group Mijente, coincided with the San Diego introduction of Operation Streamline, a fast-track prosecution program that moves migrants through the criminal justice system in group hearings. Originally introduced by President George W. Bush in 2005, the program has lately been used only in select Arizona and Texas cities.
Grassroots groups such a Junto Global, Puente and GLAHR attended Monday's rally, featuring colorful floats, public art installations and music. Demonstrators met at Chicano Park for a rally that began at 9 a.m. From there, they marched downtown to the  Edward J. Schwartz federal building at 880 Front Street.
"We know families are being torn apart. We should be welcoming families seeking asylum," said a woman who was marching.
While protesters on the ground blocked access to the building, which houses the offices of Immigration and Customs Enforcement, a group of people used ropes to rappel  down a building across the street, where they unfurled a large banner that said "FREE OUR FAMILIES NOW! #STOPSTREAMLINE." Police warned demonstrators that they could be arrested if they continued to block the entrance to the federal building. In the end, 10 people were taken into custody, police said.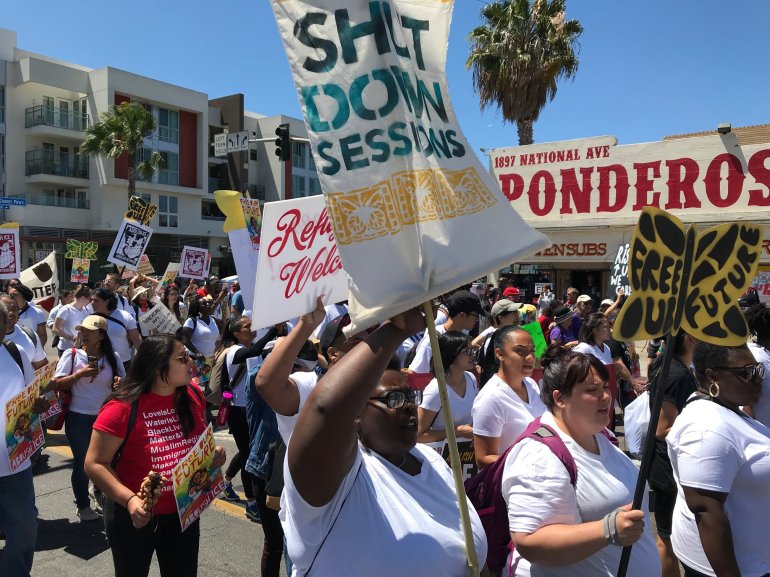 Representatives from the Women's March also participated, along with members of 35 organizations including the Communication Workers of America, Movement for Black Lives, Dream Defenders, Faith Matters Network, Working Families Party and Jewish Voices for Peace, among others.
Live from @ConMijente's #FreeOurFuture day of action in San Diego! Kicking it off in Chicano Park. pic.twitter.com/gRI4prmzrp

— Jerónimo Saldaña 🐜 (@JeronimoSaldana) July 2, 2018
'Free our Future' protest will take place at 9 a.m. at Chicano Park following a weekend of rallies against @realDonaldTrump's immigration policies. We're told thousands of people are expected this morning.@fox5sandiego pic.twitter.com/0APhywl4i7

— Aric Richards (@AricFOX5) July 2, 2018