This is an archived article and the information in the article may be outdated. Please look at the time stamp on the story to see when it was last updated.
SAN DIEGO — A 57-foot boat was destroyed Monday when it caught fire and burned in a marina on Harbor Island.
The 1963 Chris Craft Constellation named "Sea Siesta" was moored in Slip A29 at the Sunroad Resort Marina when the fire broke out  around 12:30 p.m.
Smoke was pouring from the vessel when firefighters arrived on scene.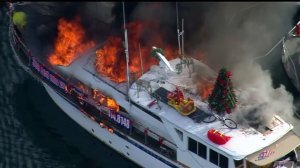 "They kept trying to get down below deck to get water on where the fire was. Potentially it was in the engine room area, but they just couldn't because of the heat," said Maurice Luque, San Diego Fire Rescue spokesman.
Luque said crews were forced to use Plan B.
"They had to ventilate the deck of the boat — in other words, cut a hole in the deck of the boat to get water down onto the fire," said Luque. " They were judicious, simply because they didn't want to load the boat up with water and have it sink given all the fuel and oil."
San Diego Fire Rescue, Harbor Police and the Coast Guard worked together to fight the flames. Officials said it took about 50 minutes to get the fire out.
Sunroad Resort Marina employees made sure nearby boats were moved so they would not catch fire.
"It's a tragedy," said Jim Behun, Sunroad Resort Marina general manager. "You hate to see this happen. It does happen. But I think that the response was as best as it could possibly be."
No one was injured thanks to two electrical workers who were on board when the fire started. Officials said they helped rescue the boat's owner, who was below deck and unaware that the boat was burning.
"They had to pull her through either a porthole or an opening of some sort, a doorway or something to get her out," said Luque. "Again there was a lot of smoke going on at the time."
The fire was contained to the Sea Siesta, but a damage estimate was not immediately available.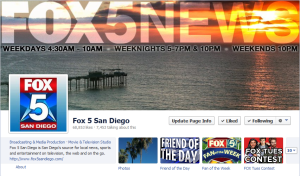 Luque said the boat was towed to a South Bay boat yard and investigators will take a closer look to determine the cause of the fire. He said they are looking into whether the electrical work had anything to do with the fire.
The boat took part in Sunday's Parade of Lights, and Luque said the lights had been left on overnight. Investigators will also look into whether that played a role.