This is an archived article and the information in the article may be outdated. Please look at the time stamp on the story to see when it was last updated.
SAN DIEGO — The co-owner of a La Jolla luxury car dealership pleaded guilty in federal court Thursday to eight misdemeanor counts of campaign finance crimes, including conspiracy, aiding and abetting contributions by a foreign national and making a "straw" contribution in connection with a federal campaign.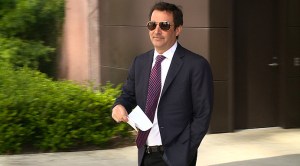 Marc Alan Chase, 52, faces up to eight years in prison and $800,000 in fines when he is sentenced Nov. 13.
Two of Chase's corporations, South Beach Acquisitions, Inc. and West Coast Acquisitions, Inc. consented to the filing of felony charges of conspiracy and entered into deferred prosecution agreements with federal prosecutors.
As part of his plea agreement, Chase admitted that he conspired with Mexican businessman Jose Susumo Azano Matsura and Azano associates Ravneet Singh, Ernesto Encinas and Marco Polo Cortes to make several illegal campaign contributions in connection with various campaigns for elective office, including the 2012 mayoral campaigns of Bob Filner and Bonnie Dumanis and the congressional campaign of Rep. Juan Vargas.
It is illegal for non-U.S. citizens to contribute to political elections.
Chase confessed to helping make a series of donations by Azano. In addition, Chase admitted to facilitating a conduit contribution in connection with a federal campaign, which is illegal even if the source is a U.S. citizen.
In acknowledging his participation in the conspiracy, Chase admitted that he covered up the illegal activity, ensuring that Azano's name did not appear in any public filing.
Also as part of his plea, Chase admitted making three large contributions totaling $180,000 in September and October 2012. According to the plea agreement, Azano told Chase to make the contributions and promised to provide financing for them.
Prosecutors have said that Azano poured about $600,000 into the local campaigns.
The Mexican businessman — who owns two homes in Coronado — hoped to turn San Diego's bayfront into a West Coast version of Miami, according to prosecutors.
Encinas, a former San Diego police detective and owner of a private security firm, pleaded guilty to conspiracy and is scheduled to be sentenced in June.
Singh, a self-styled campaign guru and owner of a Washington, D.C.-based campaign services company, and Cortes, a local lobbyist, have pleaded not guilty to similar charges of trying to hide the source of the campaign donations.