This is an archived article and the information in the article may be outdated. Please look at the time stamp on the story to see when it was last updated.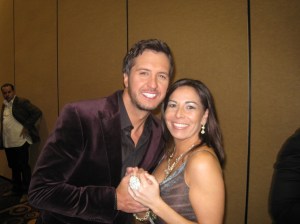 CHULA VISTA–Country Music's entertainer of the year is coming to Chula Vista Sunday, and I for one, am jumping for joy!  Luke Bryan—is by the far the hottest country music singer out there right now.  That's my humble opinion, but I'd like to think I've got good taste!  Thompson Square will be opening for Luke, and the show is definitely going to be packed.  I've met Luke Bryan twice over the last few years, and he's by far the most entertaining person to watch on stage.  Well….he does this thing with his hips….well…I'll just leave it at that!
I remember catching Luke's first video that he ever made on night while I was watching CMT.  It was his video for "Country Man."  I took one look and I instantly fell into a trance.  Admittedly, he's not the best vocalist in country music.  It's fair to give that accolade to Billy Currington, in my opinion.  However, what Luke brings to the stage is charisma, charm, and sex appeal.  I remember telling my girlfriends to keep their eye on Luke because one day he was going to make it big.  Now, he has!  And, I'm simply thankful I met him when he was still making a name for himself.  About 3 years ago, he played at the Dreamcatcher at Viejas for a crowd of about 200 people and there I was front and center!
I also saw Luke during the CMA Fest in Nashville earlier this year.  He's taken country music by storm lately, and his party songs help get the crowd rocking.
So, if you haven't had a chance to see him….my advice is clear—GO!