This is an archived article and the information in the article may be outdated. Please look at the time stamp on the story to see when it was last updated.
SAN DIEGO— Gary Sinise may be best known for his role as Lt. Dan in Forrest Gump, but he's also a very vocal military advocate.
Now hundreds of service members will get a free meal every month thanks to the actor's foundation.
"I'm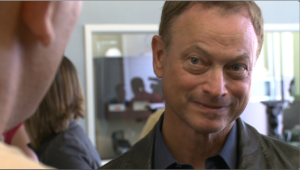 just trying to do what I can," Sinise said. "We have a military that's been pushed hard and sacrificed a lot in a dozen years and they continue to need a lot of support and we're just trying to give them support where we can."
Sinise stopped by the USO at Lindbergh Field Friday and he drew quite a crowd.
He got involved with the USO after 9/11 and now members of our military traveling through the airport will benefit from his service.
Every month men and women in uniform will get a good meal thanks to the Gary Senise Foundation.
"I just wanted to make sure they knew there were people that appreciated them," Sinise said to a group of reporters.
With many military families feeling the effects of the government shut down, Senise says there couldn't be a better time to lend a helping hand.
Senise had to cancel two benefit concerts, including one in San Diego, because of the gridlock in Washington.
"Our veteran community should not be affected by this shutdown. That's absolutely disgraceful," Sinise said. "
"We have men and women serving in harms way. My nephew just got back from Afghanistan," Sinise added.  "We have people still getting hurt and getting killed. The government should stand behind them 100% without question and this is pretty sad."