This is an archived article and the information in the article may be outdated. Please look at the time stamp on the story to see when it was last updated.
SAN DIEGO — The San Diego Police Department unveiled its newest set of wheels in the Skyline area Wednesday – a lowrider police cruiser.   It was the brainchild of the lowrider community said Mayra Nuñez who approached the police department with the idea.
"We're trying to reach the community and bridge the gap between law enforcement lowriders and the community overall," said Lowrider Community Liaison Mayra Nuñez.  "We're trying to erase the negative stigma that low riders have had throughout the years."
Nuñez said the vehicle costs around $50,000 and took about seven months to complete. It was paid for through private donations from local businesses.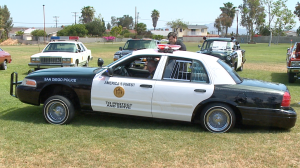 Jonathon Mercado painted the pinstriping on the vehicle.
"It`s a real honor to be part of this," said Mercado.  "In a way, I`m kind of giving back to the community because this car is going to be shown all around the community."
San Diego Police Chief William Lansdowne said the Guardian, as it's called, will attend community events, parades and car shows.
"It`s an exciting piece of equipment," said Lansdowne.   "It also is one of those items that builds trust instantly between the community and police department.  They see us as part of the community as opposed to visiting people in the community and this car will bridge that gap."
Members of the lowrider community and the law enforcement community attended Wednesday's unveiling.
"It`s a long time coming," said Lansdowne.  "I`m happy it`s here."