This is an archived article and the information in the article may be outdated. Please look at the time stamp on the story to see when it was last updated.
OCEAN BEACH, Calif. – An Ocean Beach man remains missing, six months after leaving for Humboldt County to work on a medical marijuana ranch.
Friends said Garret Rodriguez, a lifelong O.B. resident, loved people, cooking and especially the water.
"If t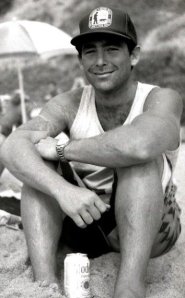 here's waves, he'll go surfing," said Bill Macpherson. "If the fish are biting, he's going to be screaming to go fishing."
It was that love of the ocean that longtime friend Bill Macpherson said drew Rodriguez to the job in Humboldt. Rodriguez had hoped to save enough money to eventually buy a home in Mexico.
"He went up there to work and try to save money to go and make a house down on his dad's property in Mexico," said Macpherson. "To be able to just surf and fish and do what he loved to do."
Macpherson said he last saw Rodriguez at Christmas in Ocean Beach. Days later, Rodriguez headed north. But friends and family realized in April no one had heard from Rodriguez in months.
"From hearing from him every week, calling me from his phone or a payphone," said Macpherson. "To haven't heard from him since January now."
A missing persons report was filed, but so far answers have been few and far between. His mother, Pamela McGinnis, believes it might be due to the area in Humboldt where he was working, a place she said is nicknamed "Murder Mountain."
"Rumors that it's called that because it's common for people to disappear in that area," said McGinnis.
McGinnis believes someone knows what happened to her son, but thinks they might be scared to share the information.
"Whether it's fear of getting themselves in trouble because of the type of work that Garret was involved in or fear of retaliation from people," said McGinnis. "People aren't coming forward."
Loved ones said the Humboldt County Sheriff's Office hasn't made much progress on the case. They are now using the private investigations firm, Cook & Associates.
"We just want answers," said McGinnis. "No matter what those answers are."
His truck was recently found broken down on private property in southern Humboldt. McGinnis said it appears the truck was sold to a new owner, but not by Garret.
"A sheriff and the private investigators have looked at the truck and talked to the people whose property it is and they have a lead on who left the truck there," said McGinnis. "It was not Garret who left the truck there. So they're trying to track down who left the truck, because that will at least provide some information like when did they acquired the truck and who did they acquire the truck from?"
Until they have those questions answered, loved ones said it's impossible to move forward.
"We need you back here," said Macpherson. "We miss you man."
Rodriguez is described as 5 feet, 8-inches tall and 180 pounds. He has brown hair and green eyes and has a colored tattoo on his right shoulder of an ocean scene.
Anyone with information on this case (2013-2060) is asked to contact Chris Cook with Cook & Associates at 707-839-7422 and the Humboldt County Sheriff's Office at 707-445-7251.