This is an archived article and the information in the article may be outdated. Please look at the time stamp on the story to see when it was last updated.
POWAY, Calif. — A 22-year-old hiker who spent the night lost on Iron Mountain was found early Wednesday by members of the Sheriff's Search and Rescue team.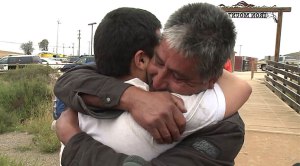 Luis Ocampo went hiking on the mountain Tuesday. Worried family members reported him missing at 2:20 a.m.
Members of the San Diego County Sheriff's volunteer search team found Ocampo's car parked in a dirt parking lot off Highway 67 at the popular Iron Mountain trailhead.
Sometime between 6 and 6:30 a.m., searchers located Ocampo on the back side of the mountain. They walked him safely off the mountain back to the parking lot, where he reunited with his relieved father.
Ocampo told FOX 5 that he got lost when he decided to hike off trail. He got worried when his cell phone battery ran out.
'The scariest part was falling off one of the rocks and cracking my head," Ocampo said.
When asked if he would hike on the mountain again, Ocampo didn't hesitate. "Off course. I might come back tomorrow. You guys can come and film me tomorrow. I might come back."