This is an archived article and the information in the article may be outdated. Please look at the time stamp on the story to see when it was last updated.
LOS ANGELES – Los Angeles Air Force Base in El Segundo remained locked down Tuesday afternoon as authorities conducted a building-by-building search after a report of a suspicious person wearing a vest or backpack with wires displayed.
No arrests had been made as of about 5:30 p.m., according to Don Traub, a base spokesman. He said the lock down would remain in place until the facility was cleared.
Traub said authorities were still trying to sort out what exactly happened, saying only that "suspicious activity" was reported near a gym.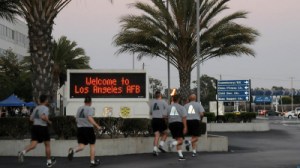 El Segundo police were called to the base at 2:27 p.m. after an initial report of an active shooter, said El Segundo police Capt. Brian Evanski. But that report was scaled back as units rolled to the scene – Evanski said shortly before 4 p.m. that there were no reports of shots fired or injuries.
Instead, Evanski said, a suspicious person had been seen on the base. The person was reportedly wearing camouflage and had either a vest or a backpack – Evanski said there were conflicting reports as to which – with what appeared to be wires and magazines for a firearm sticking out.
We are assisting El Segundo PD at the Air Force Base regarding a possible suspicious person on base. Air unit overhead

— Hawthorne Police (@HawthornePD) June 17, 2014